Michaela Meyns
Helgoland Co-ordinator
I am a chemist working as a Postdoc at the Alfred-Wegener-Institute on Helgoland. My scientific interest is all things nano - especially nanoplastics. In my opinion, exciting and important science must be shared, same as good beer, so Pint of Science is a great combination of the two.
Lisa Roscher
Co-ordinator/Public Relations
I am currently doing my PhD on the beautiful German island of Helgoland, focusing on microplastic pollution in riverine and estuarine systems. Before moving here, I studied biology in Hamburg. For me, the Pint of Science is a great experience to get in touch with science communication.
Christina Kieserg
Public Relations
I´m Christina and I work at the school lab of the Alfred-Wegener-Institute at Heligoland. There I teach pupils about science and how important it is. To reach grownups I think a pint of beer is a good idea. Everybody likes it and it is nice to listen to talks and to discuss afterwards.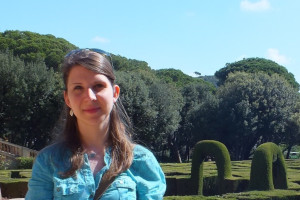 Claudia Lorenz
Finances
I have always been fascinated by the sea, so quite naturally I went for a master's in marine biology. Now I am a PhD student working in the midst of the sea on Helgoland on microplastics in the North Sea. For me the Pint of Science is a wonderful event to pass on some passion for marine research.
Alexa Garin-Fernandez
Design
PhD candidate in marine microbiology by day, scientific cartoonist at night. When I am not working on my thesis focused on phage ecology, I draw comics about science (http://mic-robio.net) and support great projects as Pint of Science!
Nelly Tremblay
Web manager
I am interested in the sub-lethal physiological responses of marine organisms to all kind of stressors, so you can imagine that I need to stop stressing about their stress levels! This is why I really like to participate in this kind of activity, it's relaxing and we can learn a lot!
Jessica Song
Event manager
I'm a student who is curious about and therefore spends most of my time trying to understand the occurences of microplastics in the ocean over varying seasonalities and what the bacterial communities that they carry on their surfaces might be up to.
Laura Käse
Event manager
Melanie Meyer
Event manager
Marcus Bach
Event manager
Sebastian Primpke
Event manager
Sophia Mützel
Event Manager